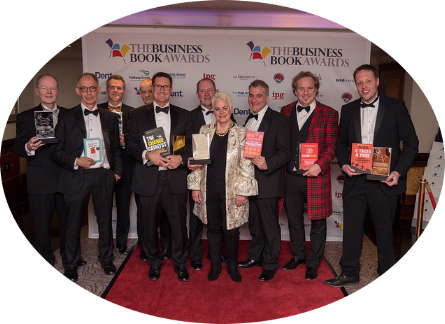 Lucy with the Winners of the Business Book Awards 2018
In 2017, Lucy founded the Business Book Awards, to celebrate the best of business writing and publishing. She drew together a Judging Panel of ten female and ten male authors, publishers and business experts and a woman Head Judge.
'Of the 150 entries, one third were from women authors; slightly less than a third of female-authored books made it to the category short lists – and not one to the list of winners.
Every single one of our eleven Award winners, including three co-authored books, was a white man.
At Rethink Press, authors approach us to publish their business and self-development books; we don't commission or seek out authors, so there is no mediation of types of book or author we publish. When I analysed our list, it consisted of one third female to two-thirds male.'
As a woman who had been working for years to mentor entrepreneurs and amplify women's voices in the world, Lucy was shocked and disappointed by these disparities. Why, she wondered, were so many fewer women than men writing books about their knowledge, experience and expertise in their market, business or sector?'
Subsequent research, then interviews and a survey of 50 women authors of business books showed that some of the reasons for this disparity were that women:
find it hard to put themselves out there
have less confidence in their knowledge and expertise
fear judgement and criticism
struggle to find the time – and money – to write.
feel that writing their book is a selfish use of their time, taking them away from people who need them in their business and family.
'I couldn't accept these findings and what they meant for women, so I decided to do something about it.'
I set up a survey and asked 50 women authors of business books about their business, writing and publishing experiences. The results are in A Book of One's Own, but I'd like to keep updating the results, so if you are the female author of a business book, please take the survey here.
'Lucy is the go-to mentor for business book writing and in this book she takes you through writing and publishing a successful book step-by-step in exactly the same way she does with the hundreds of authors that she has worked with personally.'
Shaa Wasmund MBE, entrepreneur and #1 best-selling author of Stop Talking, Start Doing

Copyright Lucy McCarraher. All rights reserved.